Announcing a great new feature: 'History tracking'.
Do you want to have full control of what happened with your preview page? Who did what? Did my client receive that email notification? The History tracking is here to help you out. All major events are tracked, together with the user who triggered the action and the receivers of the email notification.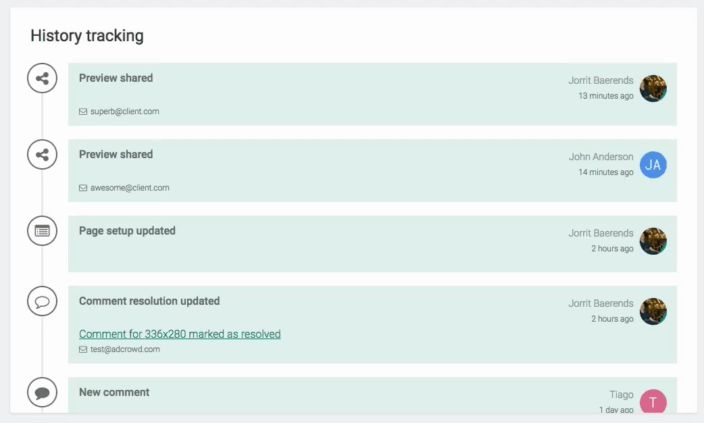 Where to find?
Log in into the platform and drill down to your client and preview page. Below the list of files you will find the complete history of your events.
Tracked events
From today, the following events are being tracked:
Preview page
Preview page created
Preview page name changed
Page setup updated
Settings updated
Preview page shared
Preview page status updated
Files:
File name updated
New files uploaded
File deleted
Comments:
Comment resolution updated
New comment
Plan XL
This new feature is available for plan XL and larger. Are you on a smaller plan? We start tracking your events the moment you upgrade to plan XL.
Adpiler is a huge time-saver "Before using Adpiler, we hosted the banners on our own server and created a simple HTML-file to list them all. That took us a lot of time. Adpiler is a huge time-saver for us."