Many of you like to keep preview pages available after being approved. This creates nice archives with files for you and your client. Your client can even use Client pages to keep an overview of them. The more preview pages you have, the bigger the need for organizing them. Please welcome 'Folders' 🙂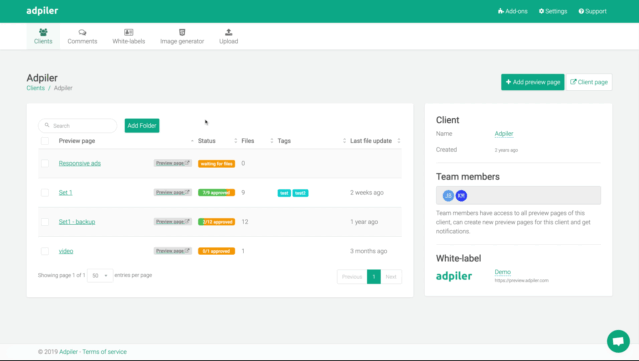 Within a client you can add an extra layer. This folder can be used to group preview pages and keep the overview clear for you and your client. You can easily create a new folder within your client, move existing preview pages to a new folder or add a new preview page to an existing folder.
Good luck with keeping everything organized!
Adpiler is a huge time-saver "Before using Adpiler, we hosted the banners on our own server and created a simple HTML-file to list them all. That took us a lot of time. Adpiler is a huge time-saver for us."