Creating realistic social ad mockups takes time, but no more! Every social media manager knows how important visualization is to a client. That's why your agency spends so much time taking screenshots and photoshopping them to look realistic. But what if we said that you could do it in a second with our brand-new social media ad mockups feature?

Social ad mockups for all trending platforms
Get ready to take your social media campaigns to the next level! Our brand new Social ad feature allows you to combine social ads with HTML5 ads, video, or image ads with ease – and preview them on a single page.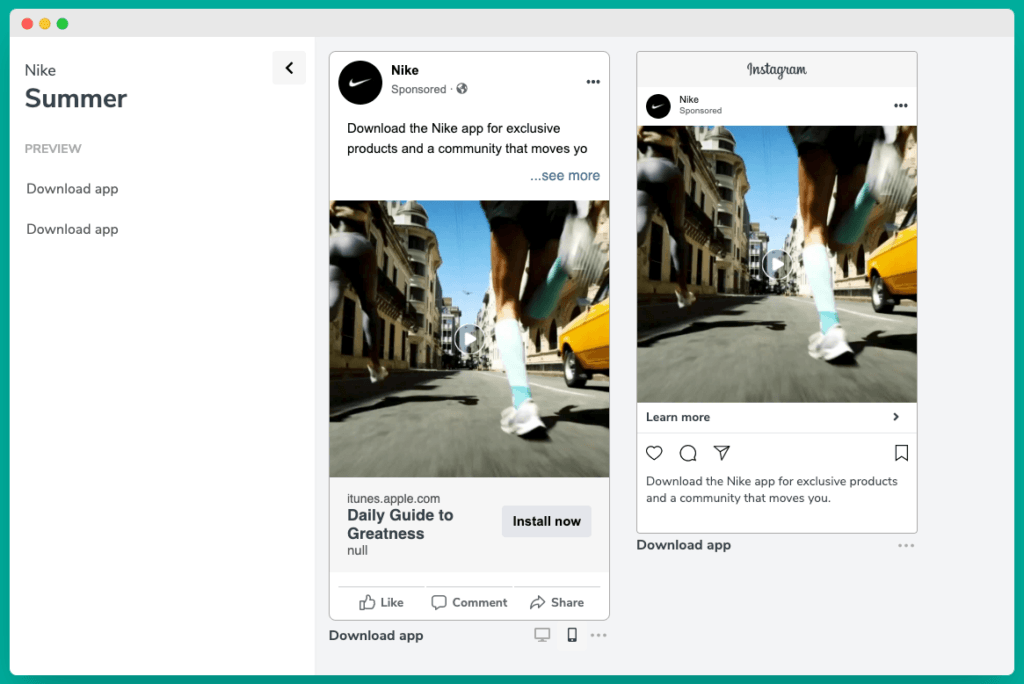 You can create social ad mockups for all major social networks – Facebook, Instagram, Twitter, LinkedIn, and Snapchat. It doesn't stop there; we're working hard behind the scenes to make more social networks available.
With our innovative tool, showing off outstanding proposals has never been easier: just share a single link giving clients an engaging overview. There they can comment or go straight to approval.
Get ahead of the game in creating cutting-edge campaigns with the power of our new social ad mockup feature.
Social media ad mockup generator creates new variants in a second
Sometimes clients want some changes, so you need to spend a bunch of time doing it all over again. Now the changes are just one click away! That means you can duplicate ad mockups.
Create multiple variants in no time and customize images or text as much (or as little) as needed. That will give your clients an easy way to make their vision a reality.
Get More Done in Less Time
Bring your vision to life and become a creative force like never before! Our new Social ad feature will put taking screenshots and photoshopping mockups in the past, which means freeing up 3 hours per campaign!
All that creative spirit can be unleashed once you get more time. Step into a new realm of creativity, come up with fantastic campaign ideas, or get that weekend start sooner.

Our Social Ads add-on makes creating outstanding, client-pleasing ads a breeze! Easily collaborate with your team (and clients) and effortlessly keep track of revisions all over one link – no need for the hassle. Streamline your process today; save time and deliver top-quality results.
Adpiler is a huge time-saver "Before using Adpiler, we hosted the banners on our own server and created a simple HTML-file to list them all. That took us a lot of time. Adpiler is a huge time-saver for us."