You do great work for your client. But in most cases you need some iterations to get the final approval from your client. File Versioning is helping you with this. When you overwrite a file, we keep track of the older file to show you a full history.
How can this feature help you?
If you have enabled this add-on and if you have updated a file, you will quickly see the benefits for you.
1. Show progress to your client (optional)
The preview page will show an extra icon below the file. Clicking that icon will show you (and your clients of course) all different versions of that same file. Clients can easily see the progress that's made and can compare the current version with older versions.
Important to mention: you could disable this feature for a specific preview page. If you don't want your client to show the older versions, simply disable this with Settings for this preview page. By default, preview pages will have this feature enabled. You can change that default at Settings > Account > tab Defaults.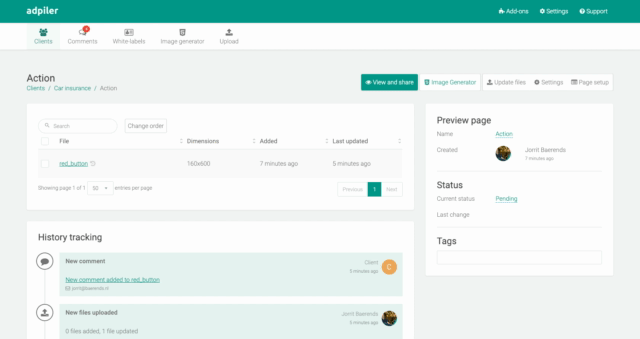 2. Comments are related per version
The overview with all files and the individual previews will keep showing all comments on the current version of the file. Drilling down to the history of the file, shows you exactly on what version of the file the comment was given. This will give you and your client a better understanding of the progress based on the comments.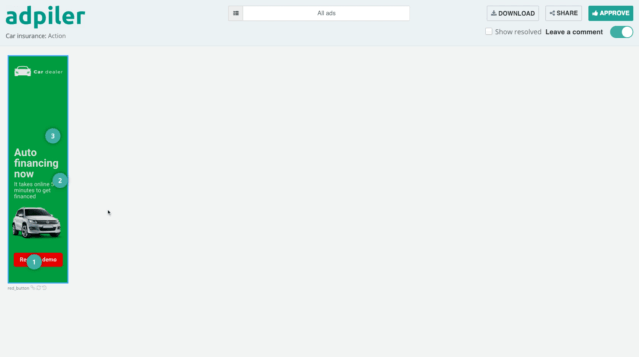 See above example. Comment 2 and 3 are given on older versions. They are shown on the overview page, but when drilling down to the file history, the comments are shown on the version when the comment was given.
3. Easily restore an older version
Newer is not always better. If you want to do a rollback, you can easily restore an older version of the file. Deleting an older version can be done easily as well.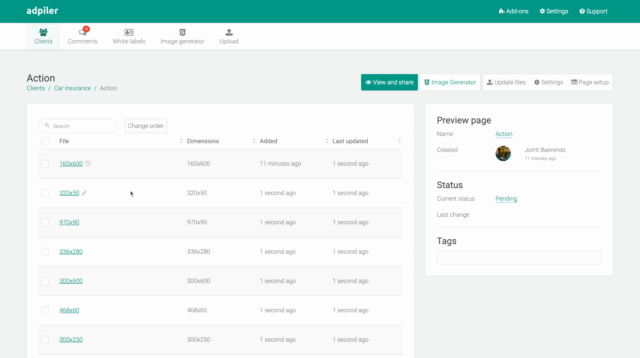 How can you start?
Very simple. You just need to enable the add-on. After activating, every time you update a file, the platform keeps track of the history and saves the older version.
Adpiler is a huge time-saver "Before using Adpiler, we hosted the banners on our own server and created a simple HTML-file to list them all. That took us a lot of time. Adpiler is a huge time-saver for us."