As you might know, we are continuously improving our platform. Most of the new features are based on feedback we get from our users. I'd like to share the highlights of the latest new features with you.
Order your files
One of our most requested feature: ordering the ads and images on the preview page. In an earlier update we enabled customising the overview of ads. From now, you can order the '1 centered column' and 'grid view' the way you like.
Simply go to the detail page of your preview page. Clicking the button 'Order files' will allow you to drag and drop the rows in a new order you like.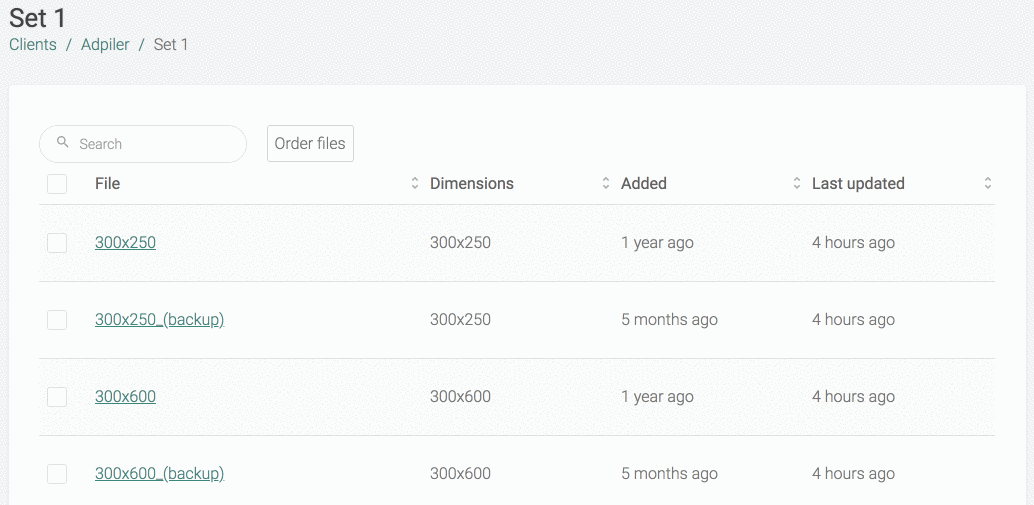 Performance improvements for large accounts
We encourage you to have as many clients and preview pages available within your account. But accounts with more then 1,000 clients experienced slower performance then desired. We've made a huge improvement to the load performance and there's no reason to limit your number of clients anymore 😉
Managing your white-labels
White-labels are one of our most used features. All of our users can completely white-label their preview pages with their own company name, logo, and subdomain. With White-label Pro you can even setup multiple white-labels. We have added some features to better manage white-labels, like editting white-labels and validating subdomains.
Adpiler is a huge time-saver "Before using Adpiler, we hosted the banners on our own server and created a simple HTML-file to list them all. That took us a lot of time. Adpiler is a huge time-saver for us."